usOWls.com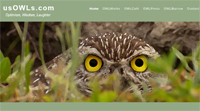 usOWLs.com is a resource for all generations with emphasis on our aging population and those affected by that population. As with the entire usOWLs.com website, our intentions are to bring you up-to-date links in target-specific areas to other resources. The screening of chosen website links is careful and with you in mind.
Michele Jackman Enterprises and Adventures
Michele Jackman is an author, an experienced Executive, a Management Coach, and is the President of Michele Jackman's Enterprises & Adventures specializing in restoring the focus and inspiration in organizations that are experiencing downturns, rapid change, and seeking new strategies through various interventions and training programs.
rainbow stores
The Rainbow Stores, conceived by the V. Traverso Co., under the direction of Victor Traverso, Jr. and John A. Traverso, was one of the best thought out and unique plans of co-operative membership in the United States.

Founded in 1922, V. Traverso Co. was the first communal grocer in San Francisco. It operated under the insignia Rainbow Stores (not related to the Rainbow Grocery now existing in San Francisco). Individual grocers remained independently owned, but membership in Rainbow Stores guaranteed access to national brands at discounted prices.
Daughters of the American Revolution
The official website for the Santa Rosa Chapter, Daughters of the American Revolution. Discover how you can join this non-profit, non-political volunteer women's service organization dedicated to promoting patriotism, preserving American history, and securing America's future through better education for children.
Italy 2012
In July 2012, Lou and her family took a 15-day trip to Italy using 13 days to travel from the Lake Como area down to Sorrento and back up to Rome. This site is a digital scrapbook of that once-in-a-lifetime event. The hope is after reviewing the site, you are motivated to make your personal trip!
Veterans Reference Desk
A comprehensive source of linked-sites and documents relating to veterans and those serving in the military.
sonoma County vet connect, inc.
As a community service project, Lou designed and built this site for Sonoma County Vet Connect. They manage the site now helping to promote the non-profit in Cost-Free Veterans Assistance for Sonoma County, California.
California League of Park Associations
CALPA is a non-profit association of member parks which provides mutual support and networking among the Cooperating Associations linked to the California State Parks System. The website was built by Lou and is currently maintained by CALPA.
Santa Rosa Chapter Daughters of the American Revolution
This is a slideshow created from PowerPoint about the opening history of the Santa Rosa Chapter. The chapter was founded in 1925. The show is in a mp3 video format. If your computer has the capablitity to run the show, a black screen should pop up. There is also sound, so adjust your speaker. Open Slideshow
Santa Rosa Chapter Daughters of the American Revolution
This is a slideshow created from PowerPoint about the Women of the American Revolution. It is opened as a file showing up on your lower left corner of the monitor. Click the filename to open the slideshow. There is sound, so adjust your speaker. Open Slideshow